Vintage Jazz Dances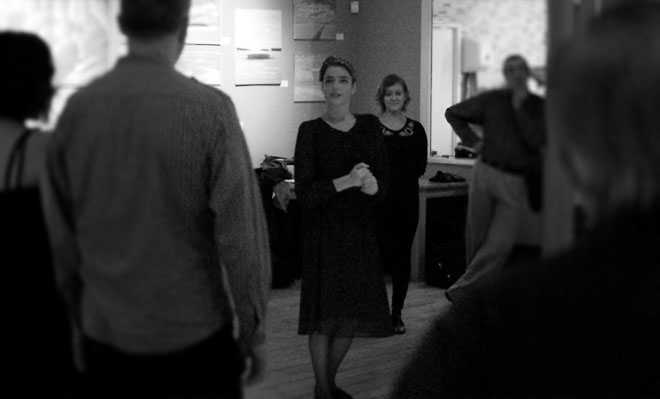 Specialist teaching in vintage jazz dances from the 1920s, 1930s and 1940s.
Balboa is a swing-era partner dance that can be fast and furious or smooth and elegant. Solo jazz steps offer the pleasure of freedom to improvise alone or with others in classic routines. The Charleston can be danced solo or partnered and has always been an expression of the carefree dancer.
Originating in America, these vintage jazz dances can be found on social dance floors across London with live bands still tearing up their side of things in rags, jazz and swing.
Find out more about the styles, below, or book one of our dance classes in London and enjoy taking to the floor, with a partner or solo, dancing to the original jazz rhythms!
Balboa
From the era of elegance & bootlegging, the Balboa emerged from the crowded dance halls of California in the 1930s. Couples improvised by shuffling to the latest swing music with rhythmic footwork. The dance evolved which could be fast & furious or smooth and elegant (Balboa). Breakaways, travelling steps and ideas from other swing dances were later introduced into the dance (Bal-Swing). Try a drop-in class or book an introductory course of Balboa dance classes
Jazz Roots
With African-American roots, early jazz steps are full of rhythm, personality and inventiveness. Related to rhythm tap, they revel in syncopation and from the theatrical chorus dancers they steal a love of performance. Anyone interested in authentic jazz swing dances such as the lindy hop will benefit from these steps to help with their style and improvisation. Jazz Roots differs from Show Jazz Dance by its natural posture and quirky steps that often draw their inspiration from real characters and contemporary life in America in the 1920's and 1930's – the jazz age itself. Choose from one of our Jazz Roots classes
Charleston
Associated forever with the iconic Flapper girl of the 1920's, the Charleston rhythm was originally written by James P Johnson for the show, "Runnin' Wild" (1923). It is said that the Charleston was the first dance to have been taken from the stage and danced in the ballrooms, blurring the boundaries between performance and social dancing which was to continue with the Lindy Hop. The Charleston was temporarily eclipsed by other dance fads, but survived into the 1930s when its recognizably choppy rhythm and broken body lines were updated for the new swing rhythms and smoothed into what is now known as the "Lindy Charleston".  Our small-group Charleston classes bring iconic style and fun to hen parties and other vintage occasions.
Jazz Roots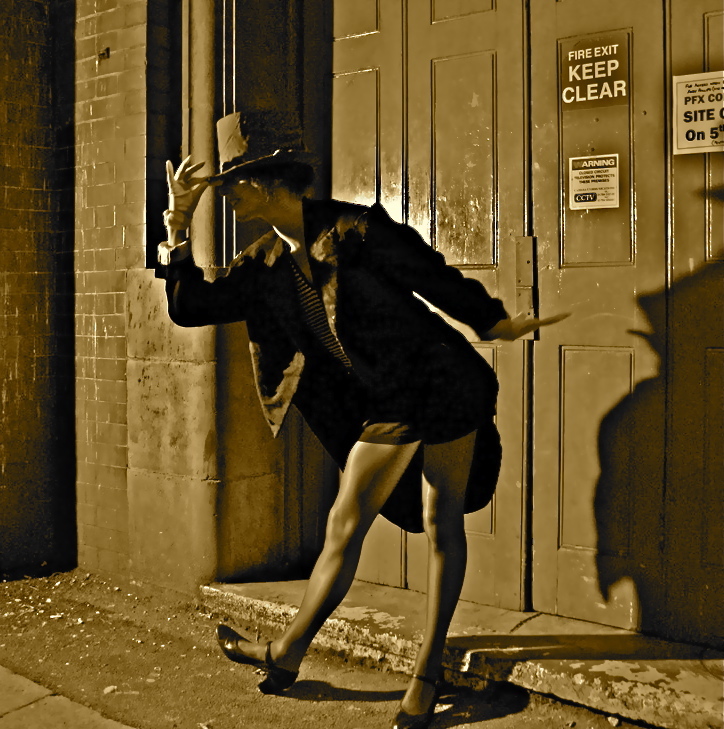 Learn the steps that were danced to early jazz music of the 1920s and 1930s! Fall off the Log, Boogie Drops, Shorty George, Apple Jacks… and of course that iconic dance of jazz age decadence, the Charleston. Nikki has 10 years experience of teaching jazz roots in London. Her unique "Charleston to Jazz" series offers the most comprehensive guide to learning vernacular jazz dance.

CHARLESTON TO JAZZ – Intermediate 
Marylebone High St
Jazz Roots: 1930s
Tuesdays 27 Feb – 27 March. (NO CLASS 6 March)
Time: 7.30pm – 9pm 1.5hrs
Price: £52 for 4 weeks or £15 per session, drop in.
To Book: nikki@hotjazzrag.com
Venue: St Marylebone School
64  Marylebone High Street, W1U 5BA, Show on Google Maps 
CHARLESTON TO JAZZ – Beginners.
The Bridge dance studio, SE1
22 Feb & 1, 15 & 22 March – 1930's Jazz Roots, (No Class, 8 March)
Thursdays, 7.30pm 1hr 
Price:  £11 per session or pre-book min 3 classes for £10/class
Venue: The Bridge, 73-81 Southwark Bridge Road, London SE1 0NK
TO BOOK
Email: nikki@hotjazzrag.com to reserve your place.
OR JUST DROP IN!
I'm happy to be participating in RISE, a collection of free events at The Bridge for women. Helping to maintain a balanced lifestyle.
https://www.thebridge-uk.org/rise
Charleston to Jazz Dance.

 A new kind of dance course. Learn about the music as well as the dance. Understand the individual talents and artistic landscape that make up the vintage era. Steps, building blocks for improvising plus choreographed routines to work on body shapes and placing.


Charleston to Jazz

takes you through the decades of the Jazz Age & Swing Era.
Other courses in the Authentic Jazz Dance series:
"Beginners to Jazz" series – Basic rhythms & jazz steps.

No previous experience required to learn to

dance like this!


"

Mastering Authentic Jazz" series –  classic & new routines, techniques, style & improvisation.
"Classic Routines" series includes:
The Dean Collins Shim Sham study series – history & variations for dancing this classic 1938 routine.
The Big Apple study series – history & routine from Keep Punchin' (1939)
The Tranky Doo study series – history & routine.
Frankie Manning's Tranky Doo study series – a surprisingly little-known version of this routine.
The Shim Sham – history & routine
Balboa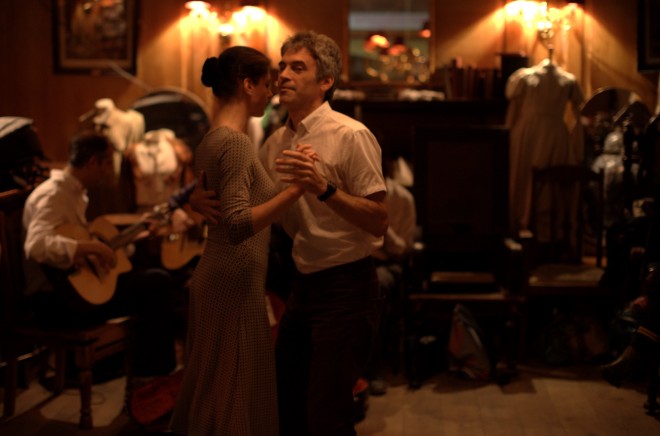 Learn to dance Balboa & Bal-Swing!
"A great class. It's the best and friendliest dance class and family I've encountered, either side of the Atlantic." (Theresa)
Sunday Balboa classes are currently on hold while we find a new venue.
Keep checking back for news, or sign up to the email bulletin!
SPECIAL COURSE FOR ALLEY KATZ!
Balboa Foundation Course (8 weeks)
Saturdays 11am-1pm
21 April – 9 June
Headley Village Hall, Church Lane, Headley nr Leatherhead, Surrey, KT18 6LE
Price: £80
To book: Contact Graham or Sharon: 07910 879070
Questions? Contact nikki@hotjazzrag.com
I'm happy to help!
Look out for future courses & workshops or sign up to receive email bulletins of upcoming courses, classes & events!
What is Balboa?
Balboa was the swing dance of 1930's Southern California which is now danced worldwide. It is a partner dance based on very small shuffle movements, which makes it ideal for dancing to fast swing music. The balboa is often referred to as a dancer's dance.
What is Bal-Swing?
Bal-Swing incorporates breakaways, turns, spins etc into the shuffle-based Balboa dance.
Everyone is welcome to our partner dance lessons, as a single dancer or in a couple. However, you can help us maintain a balanced ratio of leads/followers by persuading someone you know to come to class with you!
Lindy Hop
Introduction to Lindy Hop  
Mondays 8 Jan – 19 March, 8.30-10pm
(no class 12 Feb)
Jacksons Lane, Highgate
10 -week course. Drop ins welcome weeks 1 & 2 only
Prices: £10 per session, drop in. £100 for full 10 week course
To Book the full course, contact nikki@hotjazzrag.com for payment details.
Details coming for the next beginners course after Easter!
Check back or contact me, nikki@hotjazzrag.com to register your interest.
Saturday Swing dance lessons at Morley College
Please see the Morley College webpage for details and to book the next course, after Easter
Private Lessons
NEW! Now also Dancer in Residence at Bermondsey Square Hotel Visit me there for hen parties and corporate sessions.
Learn to dance in a relaxed atmosphere that's tailored to your own schedule, style and rate of learning.
Rates vary due to different room hires. Just drop me a line to see what we can arrange with prices (no pressure to book).
Contact nikki@hotjazzrag to enquire and book. Gift vouchers available.
Wedding Dances
Private lessons are ideal for your vintage wedding: Learn some basic social dance steps or ask me to choreograph your first dance! I have experience choreographing for same-sex couples and welcome you to bring any ideas you have, conservative or creative!
Recent choreographies: "Exactly Like You" (Charleston) "Thrift Shop" (electro-swing) for Marie & Ben, "All Right, Okay, You Win" (Boogie Woogie/Swing), "Let's Misbehave" (Charleston), "Bang Bang" (electro-swing), "Your Love Keeps on Lifting Me" (a 60's track, but charleston style requested!), "Yes Sir, That's My Baby" (Charleston) and "Boogie Woogie Bugle Boy" for Christina & Richard.
Planning a Hen Party? Every girl loves to dance and a Charleston or Swing Dance class gets everyone in the mood to celebrate!
Private dance lessons are a perfect gift for birthdays, anniversaries and weddings. A few sessions can see you and your partner through a whole season of special occasions and social events.
Contact Nikki to discuss your ideas.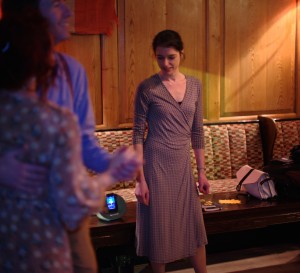 from the archive..
Secret Salon 
You can browse photographs of the private lessons and Secret Salon live music tea dance which followed the classes, here.
Events
For a full list of  swing dance events and classes taking place in London, visit Swing Out London.
Come & have a good sing song & dance. Leave feeling even better.
The Art Deco Ball
Featuring, Cassellah & the Art Deco Night Owls
Sunday 10 December, 8pm
Lauderdale House, Highgate
Tickets: £15.
Email: info@thenightowls.co.uk
The Art Deco Night Owls play hot dance music from the 1920s and 1930s. Ideal for dancing Charleston, Balboa & Fox Trot!
Dress in your finest vintage and welcome the party season.
Posin' – a family dance class
Fashion & Textile Museum, SE1


28 December 2017, 10.45am & 12 noon
Learn how to strike a pose along with some basic jazz steps from the 1930s in this fun, one hour taster class for families. Taking inspiration from the Louise Dahl-Wolfe exhibition, learn a short, simple routine and jazz it up with your best model's pose, just the ticket for families looking for jazzy entertainment during the holidays!
Wear your best swing outfits to pose the time away to some big band sounds.
Tickets £15 / £12 (under 18s) includes entry to the exhibition
Book tickets >>
A-Posin' and A-Strollin' Dance class
Fashion & Textile Museum, SE1


6 January 2018, 10.45am & 12 noon
Designed to accompany the exhibition of work by fashion photographer, Louise Dahl-Wolfe, we will be learning a vintage 50s stroll with added inspiration from Dahl-Wolfe's photographs from that era.
Tickets £15 includes entry to the exhibition
Book tickets >>
♠   ♣   ♥   ♦
past events…..
Christmas Charleston!
1920s Jazz Age Fashion & Photographs exhibition
at the Fashion & Textile Museum
Thursday 27 December, 10.45am and 12 noon
For adults & children!
Exhibition ticket included.
Eltham Palace & Gardens
Sunday 10th July 2016 Court Yard, Eltham, Greenwich, London, SE9 5QE 11am-4pm Courtaulds at Home: Preparation for a Party Classes in dances of the 1930s Experience the decade of decadence at Eltham Palace, as you are transported back to the 1930s
  Bermondsey Street Festival
September 2016.
They said we couldn't be bettered and true to their word… The Secret Salon is headlining the Dance Stage this year! 2pm Dance classes & performances – with Nikki and her Jazz Dancers 3pm Social dancing to live music by the Kings Cross Hot Club Festival website >>
Heckling Hitler: with pen, mouth & foot
Friday 26th June 2015 The Cartoon Museum, 35 Little Russell Street London WC1A 2HH An evening of raucous derision and comical fun in the form of  music, dance, film and World War II-style satire. Dance classes & performance by Nikki Santilli Live music by the Kings Cross Hot Club
Tripping the Light Plantastic
Friday 5 June 2015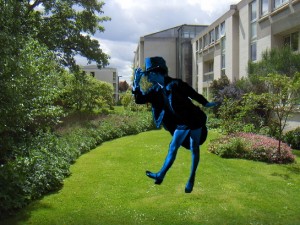 Murray Edwards Garden, Cambridge University Part of the Chelsea Fringe Festival A spoken word and improvised dance free event in Murray Edwards Gardens.
Swing Street Ball
Thurs 5 March 2015, Cecil Sharp House London featuring The London Dance Orchestra & jazz dance performances: The Dean Collins shim sham (1938) performed by Nikki Santilli "That Ol' Black Magic" (2015) Nikki & Miles for Pana Dance Company Thanks to promoter, David Parsons for putting on a great night!
Live the Swing

Sunday 19th October 2014 Great Hall, the Hellenic Centre
music by Diminuita dancing by Nikki Santilli & her Secret Salon dancers
Using improvisational techniques in vintage styles such as Balboa, our dancers created visual illustrations to the sizzling rhythms of this excellent gypsy jazz trio from Greece!
5pm pre-concert dance class! 6-8pm DIMINUITA, a Swing Trio from the orchestral gypsy jazz scene www.ark4art.eventbrite.com
Secret Salon at Bermondsey Street Festival

Saturday 20th September 2014 Music by the Kings Cross Hot Club Dancing with the Secret Salon dancers! "how wonderful your team were on Saturday. From start to finish they could not be bettered…I would love to have you along again it was such fun." Angela Fordham, Bermondsey Street Festival Association Chairman
Dazzle Dance & Draw!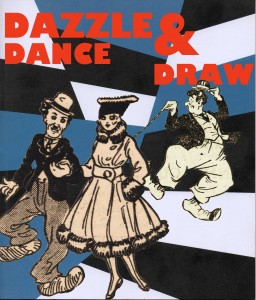 Friday 29th August 2014 at  The Cartoon Museum, Browse photographs from the event here! An evening inspired by 1914. Wartime cocktails; learn to dance the Turkey Trot and the Grizzly Bear; watch a dance performance by Hot Jazz Rag; meet comics artists, Woodrow Phoenix and Zoom Rockman; design & draw your own wartime postcard.
Midnight Apothecary – museums at night special!
17th May 2014 at the Brunel Museum, As part of Museums At Night, the legendary Midnight Apothecary hosted a night of vintage swing-jazz dance. Music by the Kings Cross Hot Club Dance classes in Charleston & Jazz-Swing by Nikki Santilli (Hot Jazz Rag) Wild cocktails by Lottie Muir, Midnight Apothecary The dance classes were so popular we had to schedule an extra one… and the room filled to capacity again! This was such a special evening that we're very much hoping to return and blend the special mix  of music, cocktails and dance once more.
Secret Salon
2012-2014. Our very special, curious dance lessons & live music tea dance at LASSCO Ropewalk. Browse our Secret Salon Gallery of Photographs NB. Hot Jazz Rag is not currently hosting a dance floor at Secret Salon. You can still hear the Kings Cross Hot Club play their mix of early 20th century, European-style jazz in the Eisenhower Room.
 ♠   ♣   ♥   ♦
All That Jazz-mas!
Browse photographs from All That Jazz-Mas! (Sunday 16th December 2012) Hidden in a majestic Georgian townhouse in one of London's most beautiful square gardens (Fitzroy Square W1), Egoist Body provides an escape to a peaceful, elegant and theatrical space.
  ♠   ♣   ♥   ♦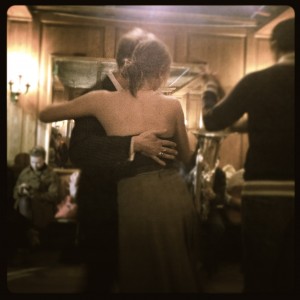 Gypsy Jazz & Gin! A pop-up dance space in a salvaged room inside Lassco Ropewalk. Leave London behind and let the evocative live music of the Kings Cross Hot Club whisk you back in time. Browse our Gallery of Photographsfrom 17th & 24th November, 2012.
♠   ♣   ♥   ♦
Testimonials
"Thank you for being such a great teacher- we have thoroughly enjoyed ourselves and hope we can do justice to the superb routine you have put together." (Chris & Catriona, wedding couple)
"You have created a lovely alternative swing/dance scene full of charming, quirky friendly folk." (Secret Salon review)
"Great class Nikki, love the little stuff you throw in for people who' might have done it before." (Jazz class student)
"Quick note of thanks from us all for a fabulous class this morning. A couple of the group were a little apprehensive on the way there but they haven't stopped talking about it all day!"
"Thanks , really enjoyed last night.  You are a great teacher and also seem to have a knack for finding lovely venues."
"I enjoyed [the class] very much. Balboa is starting to dictate its own grace and deportment. Very satisfying. Never attained without your teaching."
"Thank you so much! We really enjoyed today's class and truly appreciate what you do. You are so lucky to be able to do such an amazing job and to work with such talented musicians and dancers. We hope to join you on Monday for more inspiration."
"I think the Thursday classes are great, even though I find them terribly difficult… But they are helping with exactly what I've been struggling with – i.e. to be more responsible myself about listening to music and understanding where moves happen."
"I have always come away with a smile, a sense of achievement and self-belief and more importantly, a little more jazz in my dance shoes. Whether its mastering the intricacies of a particular jazz step or an entire routine, Nikki manages to impart new skills, a sense of the history and a joy for the steps to all levels of dancers. And all this with style, grace and humour, mixed in with an unending amount of patience. I rearrange my life around Nikki Santilli's Jazz Class schedule to ensure I never miss a moment; they are a joy to behold!"
"I just wanted to thank you Nikki … for the workshop today on the Charleston. My boyfriend and I had never danced (well properly!) until today, and we had such good fun!"
 "Thanks for the [balboa] lessons last night. The progression (with your top-secret method..shhh) was really smooth and we ended up learning the basic step without overthinking it! Brilliant."
Research
Current projects:
Collaboration with US poet, Jaime Robles to give shape to poetry through dance. Progress and notes documented at Footsteps on the Page
Publications: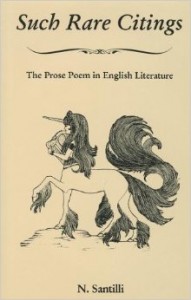 Such Rare Citings: the prose poem in English Literature (Fairleigh Dickinson University Press, 2003).
Articles:
"Marc Atkins's 'The Logic of the Stairwell'" in Marc Atkins
(Université de Liège, 2015).
Foreword to This Line is Not for Turning, ed. Jane Monson
(Cinnamon Press, 2011)
"The Prose Poem in Great Britain" special feature in SENTENCE: a journal of prose poetics,
Issue 3, 2005. Introduction & selected texts.
"Notes towards an investigation into scientific prose in the prose poem" Formes Poetiques Contemporaines 4:2006
Electronic Editions:
"The Prose Poem in Great Britain" Poetry International Web, 2006 (new selection)
"The Wanderings of Cain" by Samuel Taylor Coleridge. Romantic Circles, 2003
Contact
Nikki Santilli
nikki@hotjazzrag.com
Enquiries
Write to me for more information on: Private Lessons or any of the vintage jazz dance styles, the Classes & Courses. I'm happy to help.
Receive the latest news!
Advanced booking information.
All courses require pre-booking including advanced payment. To book, please email me with the following information:
Which course(s) you would like to book and for how many people (including all names and a contact email address for each).
Check the booking deadline for each course in Courses & Classes.
Courses at Morley College
To attend classes at Morley College, please contact the college directly
Receive the Hot Jazz Rag Bulletins
Facebook:
www.facebook.com/ScribblesAndShuffles
Twitter:
www.twitter.com/HotJazzRag
Instagram
Nikki7s